Do you want to spend pleasant moments in the National Park of Pieniny -
in the landscape of raftsmen and the region of flying monk Cyprian?
Visit Guesthouse Pltník, which is situated in the beautiful surroundings of the gateway to the Pieniny National Park. It lies on the river Dunajec with charming view of the dominant of National Park - top "Three Crowns", directly on the central port of rafts. Residence of Guesthouse, the Red Monastery, is a center of tourism with international importance and tourist pearl Zamagurie with not only well- preserved gifts of nature but also with rich historical and cultural traditions.
The biggest attraction of the whole region is floating on traditional wooden rafts down the river Dunajec that will satisfy even the most demanding tourists.
Guesthouse Pltník is the only one in Zamagurie with the capacity of 50 beds in double rooms. There are 17 double rooms with possibility of extra beds and 4 family rooms, each with two separated double rooms connected with hallway and bathroom. (The capacity with extra beds is 65 beds). Rooms are equipped with bathroom with shower and toilet, satellite TV, radio and telephone. Guesthouse offers to its visitors : Wellness (sauna, infrared sauna, whirlpool bath and traditional massage), its own beach with access to the river and to the wellness. You will find there deckchairs, children's playground and rest area (table tennis, billiards, table football). The Guesthouse area is has multi-sports court, playground, fitness track and a paintball. If you are more interested you can find rafts, bicycles, skis, different kind of balls and other sports equipment in the sport rental.
Besides high-quality accommodation, different services, delicious food and beautiful nature, also nice and qualified staff is waiting for you.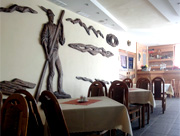 National Park of Pieniny is a part of the triangle: High Tatras - Slovak Paradise - Pieniny National Park. All of these places are not far away from the Guesthouse, just 50-60 km, so you can visit them easily.
You can visit us as the couple, with family or as a group. Our guesthouse is suitable for couples, families and also for groups, even more it is also perfect for corporate events and trainings. You can experience the unique atmosphere in a stylish restaurant with a fireplace and bar, or by sitting in a romantic cottage with a fireplace on the bank of the river Dunajec associated with smoked trout, roast pig or grilled chicken. All of this you can have with folk music and witty accompanying program. We offer several attractive tips for day trips around the Pieniny. Surroundings of Guesthouse offers a wide range of recreation such as hiking, mountaineering, water tourism, water sports, folklore events, historical, cultural and architectural monuments and other activities.