Rafting
The biggest attraction is rafting on the river Dunajec on traditional wooden rafts through the largest canyon in Central Europe. The entrance port is situated on the bank of Dunajec near the Guesthouse. The voyage is 11 km long, ends in Lesnica village. On the way back customers can take a bus, taxi, bicycle or walk. To diversify your trip you can order snack on raft from domestic products (sheep's cheese, bacon, vegetables, and bread), alcoholic and soft drinks. After or before the rafting you can order a picnic with traditional Goral (folk) music.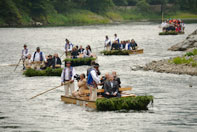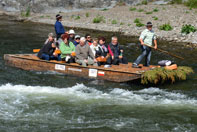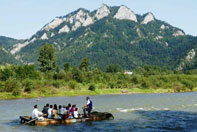 Tourism and sports
National Park of Pieniny offers a number of hiking trails within the beautiful nature that its length and difficulty can be used by visitors to their natural disposition. The same goes for cycling to the quantity, variety and complexity of diverse satisfy all bikers. Immediate vicinity of the river Dunajec allows doing the water sports also (canoes, rafts, kayaks ...). The Guesthouse area is multi-sports court (football, tennis, volleyball, and basketball), table tennis, bicycle, raft, ski, fitness track, playground, paintball.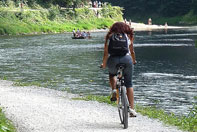 Cultural heritage
The biggest attraction is the Ethnography Museum with Kartuzian-Kamaldul monastery of 14 century in the Red Monastery. Notable historical building is Czorsztyn ruins and reconstructed castle in Niedzica, both located in Poland, only 5 km from the Guesthouse. Nearby are other possibilities of historical monuments (wooden church Debno-15 km, Lubovniansky castle and open-air museum 30 km, Levoca, Spis Castle, Kezmarok Spišská Sobota ...).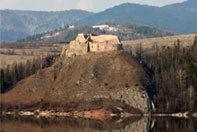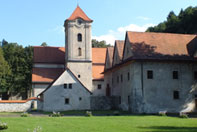 Multi-sports court
The Guesthouse area is has multi-sports court, playground, fitness track and a paintball. If you are more interested you can find rafts, bicycles, skis, different kind of balls and other sports equipment in the sport rental.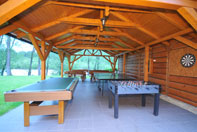 Swimming
Only 7 km far the lake behind the Polish border provides recreation and implementation of aquatic sports.You can take a ride on a sightseeing boat and water bikes or boats there. The lake is ideal for lovers of surfing on the water. Visitors can also enjoy the thermal pools (35 km Vyšné Ružbachy, Vrbov 40 km, Poprad - Aquacity 50 km).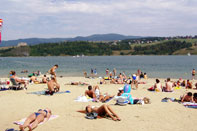 Skiing
In radius of 20 km from the Guesthouse there are several ski resorts.