Why Pieniny national park and Zamagurie?
Pieniny National Park belongs to the most visited regions in Slovakia and in its close and the wider area provides a wide range of possibilities for active holidays, recreation, knowledge and various attractions. ...
Next
Why Guesthouse Pltník?
It has an excellent location right on the bank of the border river Dunajec, has the optimum capacity of 50 beds in double rooms fully equipped ( TV, radio , WC / shower ) , 64 extra beds, Wellness ...
Next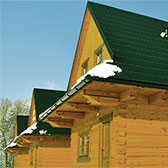 Floating on traditional wooden boats down the Dunajec river
The biggest attraction in the entire region is rafting on the river Dunajec on traditional wooden boats through the largest canyon in Central Europe ...
Next