Guesthouse Pltník is medium category accommodation after a total reconstruction and extension of accommodation and services to satisfy the most demanding customers. It is suitable for individual tourists, families but also groups, corporate events and training. With its capacity is suitable also for school trips, school outings, children's summer camps, etc.
Family Rooms
There are 4 family rooms, in Guesthouse, consisting from two separated double rooms linked by a common hallway and bathroom with shower / WC. Each room is equipped with TV, radio, telephone.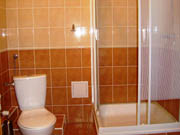 Double rooms
Guesthouse has 17 double rooms, some with possibility of extra beds, bathroom equipped with shower / WC, TV, radio, telephone.
Barrier free room
For disabled visitors is available one barrier free room with adjusted bathroom and toilet..
All rooms in the guesthouse are equipped with new modern furniture and comfortable beds.
Parking
We offer our visitors Free Parking in front of the Guesthouse. Parking capacity is 25 places. Buses can be parked next to the Guesthouse.
Camping DUNAJEC
In Guesthouse area is located camping DUNAJEC equipped with kitchen, bathroom, toilets, electrical connectors, with outbreaks of public timber supply, reserved parking, public lighting, the clothes dryer or neoprene and tub for washing, chemical sink. There is also a platform for rafts that leads directly to the water. Find more at www.campingdunajec.sk